Today I am inviting you to join a very special group of customers. They are called the 'Confrère VIP' and for nearly 40 years now they have given my winemaking dream continuous support. In return, I happily share with them all the pleasures of our hugely successful wine château in Bordeaux's Castillon – Château La Clarière – and particularly its consistently excellent wine, now offered to you …
About Château La Clarière 2019:
There has never been a better time to come on board. Bordeaux's 2019 vintage has received much attention and praise from critics around the world already. James Suckling described it as "good to excellent," producing wines "comparable in quality to 2018, 2016 and 2015 all excellent vintages". Neal Martin for Vinous.com concurred, "A majority of winemakers believe that their 2019s are superior to 2018 due to slightly better pH. Having witnessed the harvest first-hand, I believe their optimism is not misplaced."
The 2019 has sorted in the cellar and aged in the finest new French oak for quality. It has the complexity and opulence of a great wine. As every year, the work carried out by the team in the vineyard and in the cellar reveals all its qualities and allows all typicity of a Grand Château La Clarière, precise and elegant, to be expressed. Year after year, the terroir of La Clarière always impresses us a little more with its ability to go beyond the external elements. It is with renewed great pride that I share with you the pleasure of discovering the 2019 vintage.
How to Use Your Voucher*?
Reserve a 12-bottle case of Château La Clarière 2019 now and become our Confrère VIP.
Being a Confrère VIP, you are automatically entitled to a special price on your case of Château La Clarière 2019, which is HK$2,520 less than the usual retail price.
Every year you choose to take your reserved case of the newly released Château La Clarière, you will save at least HK$2,000 on the usual 12-bottle case.
Get exclusive wine offers and early-bird invitation to tasting events (subject to availability).
You are also welcomed to visit Château La Clarière and stay at the Confrère-only Guest Room, plus have a private tasting with the winemakers (subject to availability).
*Voucher is valid till 31 July 2021. The listed price has already included the HK$2,520 discount.
Your Payment Details:
You just need to pay $800 now to reserve 12 bottles of Château La Clarière 2019, and the balance HK$1,468# will be charged before delivery in August 2021 - that is HK$2,268 in total (usually HK$4,788), you save a huge HK$2,520. From then on, nothing could be simpler. We'll deliver the wine free of charge and I'll arrange for your name to go on the château's honour roll of Confrères. I will write to you often and tell you what is going on at the château, after all, it will be your château.
#Balance payment will be deducted from your credit card in our record.
Your Future Cases:
By taking up this offer and becoming a Confrère VIP, you are reserving annually a 12-bottle case of Château La Clarière and will be charged the Confrère VIP-only price (guaranteed at least HK$2,000 off regular price of the 12-bottle case). We will send you details of the wine in advance and send the wine unless you tell us you don't want it. Due to limited availability, we have to limit to one case per customer only.
100% Satisfaction Guarantee:
Every wine is covered by our world-famous 100% Money Back Guarantee and ready to be dispatched to your home or office. That makes today's offer a risk-free way to discover the quality of Laithwaites Direct Wines.
Order online NOW or call 8120 3826 quote '6966001' for more details alternatively.
**Limited to one order per customer.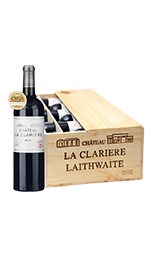 Discover better Laithwaites Direct Wines
We specialise in handcrafted wines from acclaimed estates that are usually too small to supply the mass retailers.
FREE Delivery to your door
Laithwaites Direct Wines cuts out middlemen to deliver great value to over 10,000 customers. Best of all delivery is FREE to anywhere in Hong Kong!
Award Winning Service
You can look forward to easy ordering, prompt delivery and a swift response to all enquiries.