We sincerely invite you to join us as a Cabalié Origine Confrère VIP, and you'll reserve yourself a case of this unique wine and enjoy it at an unbeatable price. It's our 'Grand Cru' Cabalié Origine 2021 – the very best of the best from two 100-year-old vineyards! Join today and you can enjoy 50% off, that's just $1,528 for a 12-bottle case and you SAVE $1,580. Plus receive a FREE bottle worth $279 as a special 'Welcome Gift' treat on us. To start with a lighter case, you can also choose to order a 6-bottle case and you pay just a mere $868 plus FREE Welcome Gift too! Only 100 new Confrère VIP membership is available this year, so best to get in fast!
Click here to download or view the introductory letter online
About your Cabalié Origine 2021:
Hervé Sabardeil's legendary Cabalié from the south of France is one of our most popular wines. Cabalie Vieilles Vignes is also much-loved, as is the superb Cabalié Coup-de-Coeur. And now, comes the one and only, the ultimate ... Cabalié Origine.

It's nearly all dark, spiced Carignan, but as is the way in these old vineyards, dotted about within it, are a few rows of flavour-packed Grenache, Syrah and Mourvèdre, and these add to the incredibly rich fruit and luscious texture that we all adore. Sit back and enjoy a true taste of the wild herbs and dark flavours of these ancient, rugged Roussillon vineyards, the origin of Cabalié.
About your Welcome Gift & Add-on Deal (60% OFF):
Whichever case you choose, you will also receive an extra FREE bottle of another prestigious Roussillon red Un Vent de Folie 100+ 2020, worth $279, as a special 'Welcome Gift' treat on us! It's using Grenache and Carignan from his 100+ year old Maury vines. Powerful yet elegant, balanced and long.

What's more? Enjoy a special 60% off add-on offer by adding on 2 bottles of Cabalié Coup-de-Coeur 2020 at $198 (worth $498)! It's Hervé's special-edition Cabalié that he crafted for Laithwaites as a special 50th Anniversary treat. It's so good that we've asked him to keep on making it – it's superb! So don't miss out!
How to become a Cabalié Origine Confrère VIP and how to pay*?
1. Reserve a 12-bottle or a 6-bottle case of Cabalié Origine 2021 now to become a Cabalié Origine Confrère VIP.
2. By taking up this offer, you authorise us to charge your credit card to reserve your selection, and charge an appropriate amount in subsequent March every year before dispatch of the new vintage.
3. You just need to pay $300 now, then the balance of $1,228 for a 12-bottle case (or $568 for a 6-bottle case) will be settled when the wines are about to deliver in mid-April 2023.
*Payment will be deducted from the card in your record with us.
Your Future Cases:
By taking up this offer and becoming a Cabalié Origine Confrère VIP, you are reserving annually a 12-bottle case of Cabalié Origine and will be charged the Confrère VIP-only price. We will send you details of the wine in advance and send the wine unless you tell us you don't want it. Due to limited supply, one case per customer only.
100% Money Back Guarantee:
Every wine is covered by our world-famous 100% Money Back Guarantee and ready to be dispatched to your home or office. That makes today's offer a risk-free way to discover the quality of Laithwaites Direct Wines.
*Order online NOW by filling in the form below or call 8120 3826 quoting '7373001' for more details.
To check out tasting notes and wine descriptions, please click "View Details" below to find out more.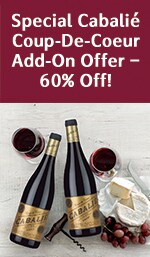 Discover better Laithwaites Direct Wines
We specialise in handcrafted wines from acclaimed estates that are usually too small to supply the mass retailers.
FREE Delivery to your door
Laithwaites Direct Wines cuts out middlemen to deliver great value to over 10,000 customers. Best of all delivery is FREE to anywhere in Hong Kong!
Award Winning Service
You can look forward to easy ordering, prompt delivery and a swift response to all enquiries.