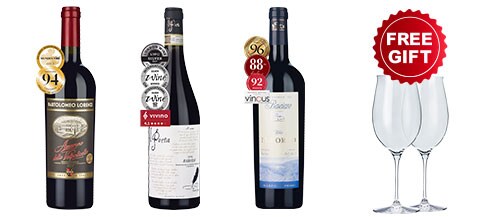 Superstar Italian Trio 3btl + 2 FREE Bordeaux Glasses
What's in this case
Item Code: J0237601
HK$229.33 / bottle
for
3 bottles
Description
Not long until Mid-Autumn Festival! Of course you want to share some very fine wines with your loved ones, so we have some stunning gift sets for you that will really impress. We'll deliver them directly to you or your lucky gift recipient – then you can celebrate the Mid-Autumn festivities in luxury style!
Choose your Gift Collection here:
Superstar Italian Trio + 2 Bordeaux Glasses
Love your superstar Italian reds? Of course you do! These dazzling examples have all been decorated with high points and / or medals too! Look forward to a powerfully intense Amarone, a silky, high-toned Barolo and a magnificent 'Super-Tuscan' from a top Chianti Rufina estate. These are absolute must-haves!
These will make your Mid-Autumn festivities very special, but if you see something you like, please put your order in quickly. There are only VERY limited stocks, and these will sell out soon!
Try More Mixed Cases Like This